So here is the post I have been promising about my Ramadan project!!! Insha'ALlah there is still time to do one for your house if you like it.
Felt Ramadan surprise calendar
To get started you will need:
1 yard of 54 inch wide felt. 2 36 inch long 3/4 inch dowels. 8 pieces of 9"x12" felt. Number and letter stencils. Paint and brush for stencils. Glue gun (or good fabric glue). Wooden decorations for the end of the dowels. Whatever other little things you want to decorate the finished product with.
It is helpful to have a rotary cutter and guide... But of course scissors will work too. And you can buy numbers and letters in felt... But I am too cheap to do that!LOL
First: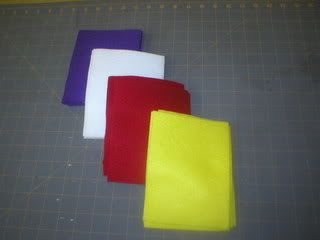 You cut the 9x12 pieces into four 4 1/2x6 pieces for the pockets.
Second: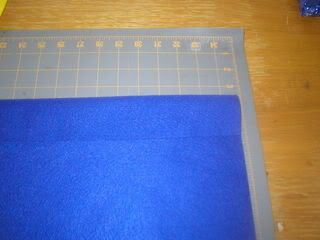 Square up your main piece of felt, making it about 34 inches wide. You will clip off the excess at the bottom later. Then, fold over the top and create a pocket for the dowel (an inch will do. Just glue it on the edge.
Third:
Stencil on your lettering across the top.
Fourth:
Lay out your pockets in rows of five alternating colors as you go. It is helpful to use a yardstick or some straight edge to keep you in line as you glue.
Fifth:
Once you have all those pesky pockets glued stencil on all your numbers.
Sixth: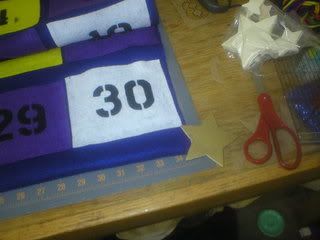 Now you need to trim off the bottom leaving enough room for the lower dowel pocket. Make that pocket the same way you did the one on the top. Then, put the dowels through and glue on whatever you choose for the ends on the top and bottom dowels. Now they are snug in place.
Finally, add your decorations where you think they are needed and place a string on the top dowel to hang it. Then the fun part... Fill it with a little treat for every day of Ramadan! I will be wrapping mine since the pockets are open, but you could just glue a little velcro to the pocket if it suits you better:)
Happy Crafting!!! Insha'Allah someone will find this useful. If you make one of these or a date chain just send me a photo and I will post it, insha'Allah.