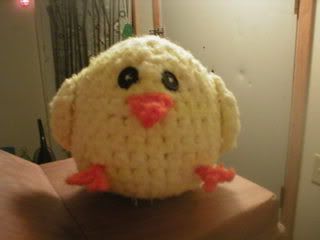 Amigu-what? Well, after seeing a friend make a doll that was just too cool for words I asked for the pattern. They called the style of the doll AMIGURUMI. And like a good internet geek I googled it to find out what it means. Apparently it is a style of doll made by crocheting in spirals and adding felt features leaving you with a slightly anime looking character. Soooo, of course I had to make one! The chick above took me maybe 1 1/2 hours and is the height of my cell phone. Awwww!!! I'm hooked (pardon the pun)!
Go check it out:
Amigurumi Kingdom
Ana's Amigurumi Patterns
Now see the fun things you find yourself doing when you get rid of the TV???? Not to mention that I have read three books thus far... More than I read in the entire before!