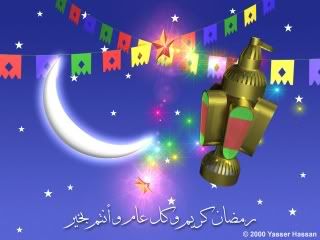 This years Ramadan craft will be posted late tonight,insha'Allah. I am in the final stages of working the photos into a tutorial instructions kinda thing. So stay tuned!
If you haven't seen them, here are the last two years:
Ramadan 2006
Ramadan 2005
And from other sources, here are some great ideas:
Farhana's cool ark suprise box
and her Masjid surprise box
Ramadan Craft Book PDF
Cookie sharing project @ Ramadan Joy
Surviving's no-sew gift bags
Farhana's gift bag tutorial
***Update on 9/16/07- Still working on the photo tutorial. I didn't manage to get it all finished before Ramadan, and now it's going slowly... Insha'Allah, soon!